Need admin support or virtual reception services to move your business to the next level?
We help small business owners who work from home, financial planners, allied health practitioners, coaches and speakers … even virtual assistants!
LET'S HAVE A CHAT
ADMIN SUPPORT & VIRTUAL RECEPTION
Admin support services
Our Australian virtual assistants are skilled in a variety of software and can assist you with many administrative tasks.
Below are just a few of the tasks we can do for you:
Business card scanning
Correspondence (letters, emails and faxes)
CRM management (Customer Relations Management)
Data entry and database management
Diary management – setting up and/or scheduling appointments, reminders, etc.
Email management
Event planning
Internet research
Mail merges
Meeting minutes transcription
PowerPoint presentations
Project management
Relocation arrangements
Spreadsheet creation and management
To Do list management
Travel planning and coordination and more …
Virtual reception services
Many of our clients start with us by having us answer their phones and I can promise you they never look back!
I am sure you have been in this position before, where you are with a client and the phone rings.  Although I am sure you stay focused on your client at the time, you are probably wondering if you just missed another potential client or an important call from an existing client.
Never miss a call again and have us answer your phone. Think of how much time has been wasted playing a constant game of phone tag with your clients.
How does it work?
Appointments can be made direct to your calendar
Reschedules can be done immediately
Cancellations can be taken care of and hopefully rescheduled rather than cancelled
No more pesky telemarketer calls as the messages never get through to you
After hours voicemails returned
Appointments confirmed or confirmations followed up
Continue to run a full calendar with minimal cancellations by having us manage your calendar and more …
Don't see what you need on above list of tasks?
Watch this short video — you'll learn how resourceful our virtual assistants can be and how we may be able to assist you manage your business remotely.
Still not sure? Have a look at how we can help some specific industries below … or …
Who we work with
The Beyond the Maze team of Australian virtual assistants know what you need and will make sure you're 100% satisfied with our services. Your clients will notice the difference and compliment you on your staff's capabilities and efficiency! They won't even know we work remotely from your physical business.
Are you a financial planner?
Are you feeling snowed under with paperwork? Are you worried that you are not keeping up with compliance needs?
Why waste your time on office admin when you could be seeing more clients or preparing more plans?
Let us do the work for you and free up your time!
Imagine not having the worry about your administration or compliance again and spend your time meeting with clients and helping them just like you planned to do when you started your business.
Not used a Virtual Assistant before and not sure how they can help?
Well, here is a list of what assistance you would receive in addition to our general admin support and receptionist services listed above.
Beyond the Maze virtual assistants can take care of:
Lodgement of applications and follow up to completion
Office organisation and office 'babysitting' while you're on holidays or ill
Review implementation
SoA organisation for paraplanner
SoA proofreading
Social media management
Staff training and more …
Are you an allied health practitioner?
Have you reached the point in your business where you can no longer do it all by yourself? You need to sleep!
Imagine having the business you set out to have where you can pay attention to patient care without having to worry about answering the phone, doing invoices, lodging medical claims and rescheduling appointments just to mention a few.
Getting a receptionist can be costly, you pay them to be at the desk all day so they are available to answer the phone but the phone may not ring, or at least may ring a little. If you don't have the tasks to keep them busy throughout the day it can become quite costly.
Using a virtual receptionist can provide you with phone coverage for every day of the working week while only paying for the calls you receive! How great is that? Never miss a call again!
But wait … a Virtual Assistant can also be used to manage so many different admin tasks listed in our admin support services above.
Are you a coach or speaker?
Maybe you are both! Do you want to grow your business but just don't have the time? Maybe it is time to get assistance!
Imagine this! You check your diary at the end of the day and you find two more new clients in there for you to speak with.
Everything has been sent off to those clients ready for you to meet with them and all you have to do is turn up!
How many more people could you be speaking and working with if this was happening? Quite a few I imagine?
What tasks can you get support with by using an assistant in addition to the admin support services listed above?
Well, some of the following suggestions may help:
Sourcing speaking opportunities
Organising speaking events
Providing intake forms to clients and following up
Providing speaker packages
Putting together a speaking or coaching package and more …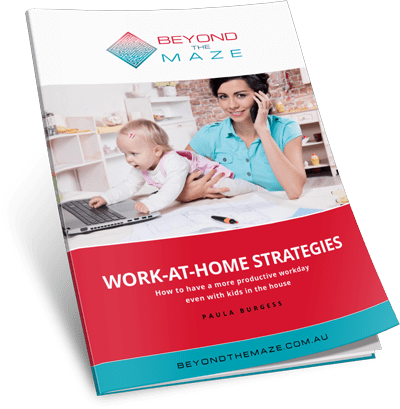 Subscribe to our newsletter and receive our FREE ebook
Work-at-Home Strategies: How to have a more productive workday even with kids in the house