Virtual Assistants are in demand right now
So how do you become a virtual assistant (VA) in Australia?
CONNECT WITH US
Want to be a virtual assistant?
How do you start a virtual assistant business?
When I started my virtual assistant business, I remember spending hours getting lost down rabbit holes of Internet searching.
There were so many people running virtual assistant businesses and more people offering 'advice'. It was hard to know what I should listen to and what I should ignore.
And then I discovered Virtually Yours and met VA Advocate, Rosie Shilo. This lady obviously knew her stuff so I started following her and seeing what she posted. I quickly worked out that I had to become one of her tribe.
Having a mentor and a supportive group of VAs around you as you're growing your business (and even after you're established), is one of the best things I did.
I highly recommend you join Virtually Yours – an Australian virtual assistant network.
Rosie Shilo of Virtually Yours offers a very affordable membership that comes with a wonderfully supportive Facebook Group, along with regular jobleads and other training options! It's an invaluable resource if you're starting out.
What does a VA do?
A VA is a virtual worker. You run a business remotely and offer a service to your clients. One of the biggest things to remember is that you're not an employee and you no longer have a resume – you're a business owner! You have a LinkedIn profile or a portfolio or a website you direct your clients too.
As a VA, you're responsible for providing all of your office equipment and handle your leave, superannuation and tax payments. You will also only be paid for the time you work, or by set hours or packages you work out with your client.
The term VA can cover many different virtual contractors:
General admin support providers
Online business managers
Social media managers
Receptionists
Web designers
Brand and graphic designers
Copywriters
Event planners
Tender writers and many others.
Many VAs niche into service areas, or for a particular client type or industry. They find this helps zone their marketing and they're able to book in more clients.
Want to connect with other Virtual Assistants?
There are lots of ways to network online with other virtual assistants. I suggest joining Virtually Yours to start, and also join the VAs in Australia Facebook page.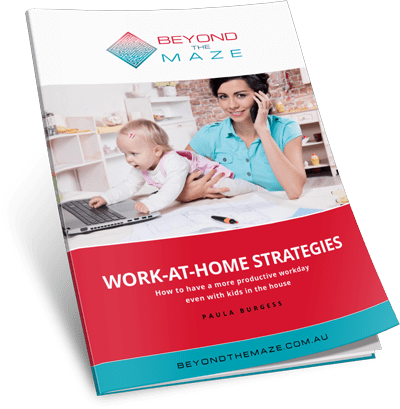 Subscribe to our newsletter and receive our FREE ebook
Work-at-Home Strategies
How to have a more productive workday even with kids in the house