Are you looking for a flexible friendly workplace in the Moreton Bay region?
A place where management understands the importance of working around the needs of your family?
YES - THAT'S WHAT I NEED
Here are Beyond the Maze, we are known as a supportive and understanding workplace.
We provide the opportunity to not only have a workplace you enjoy coming to but to also have the ability to hold a job around the needs of your family!
Sound too good to be true? Well, flexibility workplaces do exist!
Founder and CEO, Paula Burgess, needed a flexible workplace to be able to work around the needs of her special needs child so she started her own business and now provides a workplace where others can have that flexibility around their family's needs without feeling guilty.
So whether it be running your children or older family members to the odd appointment or just wanting to attend some of the assemblies at your child's school, we offer that flexibility to do this!
All we ask for in return is a committed team member who can have fun and work hard and does whatever it takes to ensure our clients are taken care of.
If this sounds like something you might like to explore then please feel free to apply for any positions we may have available soon by following the instructions in each section. Please note, if these instructions are not followed, your application will be deleted.
ATTENTION!
Motivated Administration Assistants with attention to detail
If you are the administration assistant we are looking for and like to be part of a friendly team who believes in our products and services this position may be for you.
At Beyond the Maze Pty Ltd, we are dedicated to working with our clients and providing the best services in the market place, whilst having an amazing place for us to work and grow.
Some of the tasks you will be carrying out include:
Answering the phone for multiple different clients and booking their appointments
Providing any administration takes such as following up any paperwork for appointments, speaking with doctors to follow up referrals, obtaining additional information from various businesses
Taking payments for clients
Supporting coaching and membership clients
Ensuring clients are looked after as efficiently as possible and identify areas that are going to work more efficiently for them.
Supporting the management team
Various other administration services that you can be trained in
If this sounds like you, then send us an email at careers@beyondthemaze.com, and will send you further information.
PLEASE, NO RESUMES AT THIS STAGE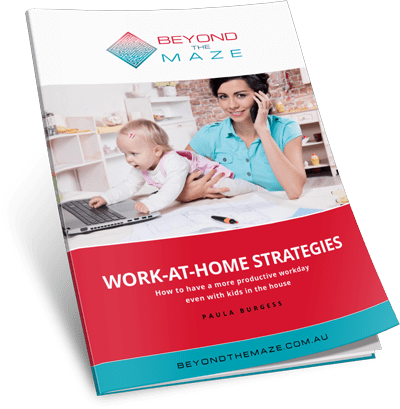 Subscribe to our newsletter and receive our FREE ebook
Work-at-Home Strategies
How to have a more productive workday even with kids in the house